Australia face an uphill task to avoid defeat by India in the second Test after collapsing on the third day in Melbourne.
Trailing by 131 on first innings, the hosts lost three wickets for one run as they slipped to 99-6 at the MCG.
An unbroken 34-run stand between Cameron Green and Pat Cummins helped them to 133 without further loss at the close, leading by only two runs.
India were earlier dismissed for 326, with Ajinkya Rahane making 112.
Australia, leading 1-0 in the four-Test series, were reasonably settled on 71-2 before they lost four wickets in the final session.
All-rounder Ravindra Jadeja took 2-25 and debutant pace bowler Mohammed Siraj 1-28.
India were without fast bowler Umesh Yadav for much of Australia's second innings after he injured a calf.
How the collapse unfolded
While not as dramatic as India's 36 all out in the first Test, Australia's batsmen were stunned by a depleted bowling attack at the MCG…
4-1: Burns c Pant b Umesh 4 – The beleaguered opener edges a full, late-moving delivery behind and uses up a review before walking off
42-2: Labuschagne c Rahane b Ashwin 41 – Australia's top-scorer in the first innings is stuck on the back foot and edges to slip
71-3: Smith b Bumrah 8 – Smith moves across his stumps and is bowled behind his legs
98-4: Wade lbw Jadeja 40 – The opener is trapped plumb in front as he attempts to work to the leg side
98-5: Head c Agarwal b Siraj 17 – A horrible drive sends the ball straight to second slip
99-6: Paine c Pant b Jadeja 1 – Controversy as Paine is given out caught behind on review despite no obvious mark on HotSpot as Australia lose a third wicket in 23 balls
Although Cummins and Green were able to edge Australia into the lead in the last over of the day, it is likely that India will level the series on Tuesday.
'Humble pie for breakfast!' – reaction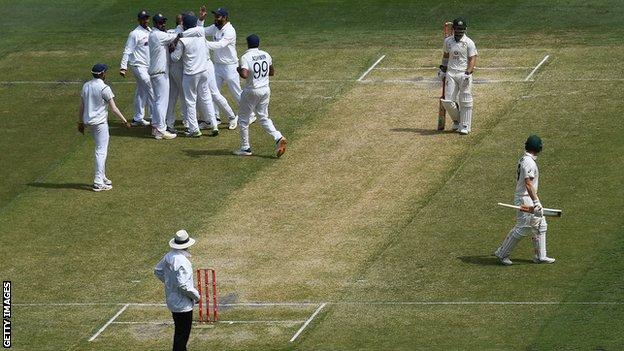 India captain Ajinkya Rahane: "You want to back your gut feelings and go about it. We have still got four wickets to go – the game is not over yet."
Former Australia fast bowler Merv Hughes: "There wasn't a whole lot in the wicket so you expected the Australians would bat through, maybe be two or three down by the close. There was a little bit of undisciplined batting and here we are, late in the day, only thanks to Pat Cummins and Cameron Green."
Ex-Australia leg-spinner Kristen Beams on ABC Grandstand: "It's been a unique day. There were some poor dismissals, in particular Travis Head; I think he'll be disappointed to see that."
India shine despite setbacks
India are without captain Virat Kohli, who has returned home for the birth of his first child, but his replacement Rahane made a century to put the tourists ahead.
With Yadav limping off shortly after dismissing Burns, Rahane had to carefully manage his bowling attack.
Jadeja backed up his 57 with the bat with the key wicket of Wade, and Ravichandran Ashwin's improved form meant the spinners could hold down an end and give the fast bowlers time to breathe.
Bumrah found pace on what had seemed to be a placid pitch and his yorkers were key in tying Australia down.
BBC